Back to all posts
Posted on
Updated Health Screening & Requirements (Dec. 2020)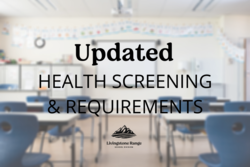 In late December, the provincial government announced updated daily health screening for people under 18 years of age. Along with the changes to the checklist of core and other symptoms, there are now updated guidelines for how long students are required to stay home from school, depending on their symptoms.
Click HERE for the updated COVID-19 ALBERTA HEALTH DAILY CHECKLIST (FOR CHILDREN UNDER 18)
Click HERE for the document How Long to Stay Home From School
Visit Livingstone Range School Division's Re-Entry 2020 page for the latest updates and resources for school protocols during the COVID-19 pandemic.