Back to all posts
Posted on
Jonina Millis Named Acting Assistant Principal at Canyon School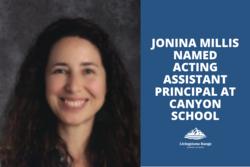 Livingstone Range School Division is pleased to announce that Jonina Millis has been named Acting Assistant Principal at Canyon School in Pincher Creek for the 2021-2022 school year.
"We are very excited to have Jonina join Canyon School as the Acting Assistant Principal," says Associate Superintendent Richard Feller. "Jonina brings a wealth of experience and a passion for learning that will no doubt support the students, staff, and community of Pincher Creek."
Jonina holds a BA and BEd from the University of Lethbridge and a Master of Education in Educational Studies from the University of Alberta, where she focused on new standards for the teaching of First Nations, Métis, and Inuit content by Alberta teachers. For more than 10 years she has taught in Livingstone Range School Division including phys ed, French, art, and Kindergarten. Since 2013 Jonina has taught Grade 4/5 at Isabelle Sellon School.
"Jonina has a clear ethical and moral approach to education that was evident as she participated in the LRSD Inspiring Leadership course," says Richard, "and we know this will serve her well."
As an educator and leader, Jonina is committed to building positive and collaborative relationships will members of the school community. "I am so excited to have the opportunity to act as Assistant Principal this year at Canyon School," says Jonina. "I fully embrace the school's beliefs that everyone is unique and deserving of respect. I am really looking forward to joining the team and supporting the school's commitment to providing a safe and caring environment for all."
Congratulations to Jonina on her leadership role at Canyon School.