Back to all posts
Posted on
How Much Does Attendance Matter?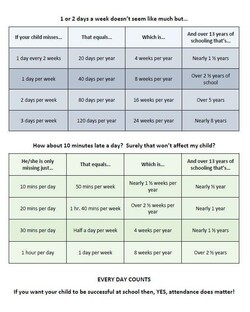 Livingstone Range School Division Procedures (Admin Procedure 330) require that a student maintain an attendance level of 90%.  We recognize students are absent from school for a variety of circumstances (illness, appointments, family activities), and that in certain cases these absences are unavoidable.
At Canyon School, we believe that attending school consistently and on time are vital to a student's success in school.  In order to take full advantage of the programming in place, it is important that all students attend school regularly and on time. 
As a school, we work with all parents in maintaining the best possible attendance record for all students; supporting your child in meeting their academic potential is essential to us.
If you require support in getting your child to school consistently and on time, please contact Mr. Pichurski - pichurskip@lrsd.ab.ca or call the front office - 403-627-3118.